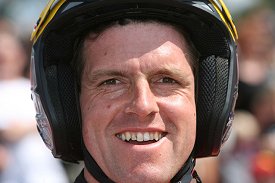 Red Bull athlete Dougie Lampkin - Gas Gas made a winning return to the competitive arena when the former multi FIM Trial World Champion was victorious at the twelfth edition of the two days of Arinsal trial held in the mountains of Andorra. Thirty-seven year old Lampkin enjoyed a weekend long battle with soon to be FIM Junior Trial World Cup winner and Gas Gas team-mate Jorge Casales. Despite a mistake in the final section of the first day, Dougie riding the new TXT Pro 2014 model still managed to beat his much younger counterpart on a most cleans tie-break as the leading duo finished on fourteen marks apiece.

Recognised as one of a series of class multi day events in Europe, Lampkin relished the opportunity to make his debut at this event having competed on similar terrain in Andorra many times during his World Championship winning years. Despite having stepped down from the top tier of competition in more recent years, Lampkin continues to show he remains a formidable force in the more traditional based events, as his back to back to wins at the Scottish Six Days Trial in 2012 and 2013 confirm.

Lampkin was in good form throughout the opening day in Andorra and had the beating of Casales, Pol Tarres and Jordi Pascuet right up to Saturday's closing section. A mistake here would see Dougie crash heavily with the bike landing on top of him in a deep pool of water. This single error at the end of an otherwise solid day's performance would see Lampkin trail Casales by two marks over night, with both Pascuet and Tarres still in close company ahead of day two.

Determined to make amends for his late mistake on day one, Dougie made sure that he had his feet welded to the footrests as Sunday's completion got underway. Just a single five on Sunday for Lampkin proved enough to draw level with Casales in the overall honours after the eighteen year old parted with seven marks on day two. After a tense wait Dougie was finally confirmed the winner with him having recorded one more clean than his young challenger.

Delighted with his latest victory Dougie said. "It always feels great to win even if it is by such a narrow margin. In fact it feels even better when you come out on top in such tight circumstances. It has been a great weekend, very relaxed and some incredible scenery. Andorra has some great trials terrain as I know from past experiences, so it was good to have the opportunity to enjoy it away from the pressure of when I used to come here to ride the World Championship."

"With me only riding limited events nowadays, the younger riders certainly have the advantage over me in terms of time on the bike, so that's when I have to use all my years of experience. The mistake in the last section on Saturday was a shame really, as apart from that I have ridden well all weekend."

Dougie signed off by saying. "It is nice to be heading back to the UK later this week for my annual trials schools with a win under my belt. My leg is a bit sore from Saturday's crash, but that will not stop me putting in the last few miles on the bicycle ready for our Pedal de Alps adventure next week."