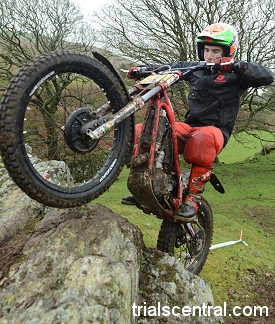 Gas Gas UK have confirmed that reigning British Champion, Michael Brown will not be travelling to Japan this weekend to take part in the second round of the 2014 FIM Trial World Championship due to ongoing problems with tendonitis in his right wrist. Since returning from Australia, Michael has had daily physiotherapy and it is improving, but unfortunately not in time for WTC Japan this coming weekend, which he was due to fly to today.
With missing Japan Michael is gutted because it's another two days of World competition that he will not score points. Michael missed rounds last year because of his knee injury so to improve on his #9 ranking will prove difficult when the championship resumes at the end of May in Corsica.
With the SSDT just under 2 weeks away the fight to be fit for that is more important thatn the World Championship and, whereas the SSDT sections are not so tough, it's the moors that could aggravate his wrist so we're hoping for a fast recovery from this annoying tendonitis.
Michael needs some good luck for the Scottish especially after his freak knee injury last year..