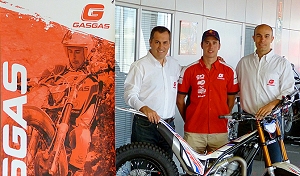 Adam Raga and Gas Gas have agreed a new contract which will see the Ulldecona rider and the Gas Gas marque continue their current partnership with Raga sticking with the brand which has grown and developed his career and seen him win a total of six world and seven national titles.
Raga has committed to a further three more years with Gas Gas and the rider has expressed his full confidence in the team and the brand he has been with while developing his professional career over the years. This morning in Salt, at the Girona brand headquarters, Ramon Puente, director-general of Gas-Gas, Santi Navarro - trial team manager and Adam Raga sealed the deal by which the Ulldecona rider, and brand ambassador in the world of Trial, signed the three-year contract for Raga to remain part of the Gas Gas family. With seventeen seasons in the elite level of the World Championship with Gas Gas, Adam Raga - 32 years of age - and with an extensive list of 46 World Championship victories with the Salt firm, continues with the notable brand in the world of Trial.
Adam Raga: "I am very happy with this renewal, I think we've done a great job during these seventeen seasons we've been together. It was important for both sides because it continues a great story. We have achieved many successes and remain competitive. We got the first title in the 2000 World Junior Championship, and a year later came our first victory in a World Championship race. Then came the World Championship, from 2003 until now we have won six World titles and have always had options to fight for victory. This is a good path for both parties and I am very happy to stay here. Given that this is my seventeenth season on the team and that Gas Gas has completed its thirtieth anniversary this year, that means that I have more than half of the years in the history and life of the Gas Gas brand, and when I finish my new contract, it will be twenty years on this team, which pleases me very much."
Santi Navarro (Trial Team Manager): "Adam Raga, the official Gas Gas rider since 1998, has won six world titles and many other national ones. He has always been the rider of the brand and where he wants to be in he future. For Gas Gas, Adam is part of our history and we wanted him to remain. We are very pleased to continue working together and look forward to many more successes in the future."