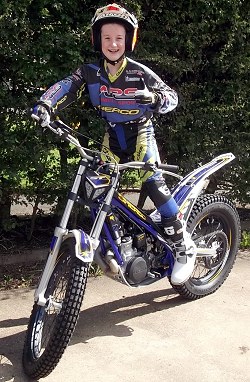 Dan Slack on his shiny new ShercoWith the arrival of the first batch of the 2015 Sherco trials range of all models the UK importers, Malcolm Rathmell Sport, are very pleased to announce their first signing for the 2015 season.
Twelve year old Dan Slack, who is destined to finish 2nd in the C Class this year has just picked up his brand new Sherco from the MRS base in Harrogate. Dan has been very patient as he attended the Sherco Open Day last year and has waited throughout the 2014 season before he could make the change to a 125 for the coming season.
To date in the British Championship series Dan has finished 2nd in the D Class, 2nd in the C Class medium wheel and second in the C Class big wheel this year. MRS are hoping that things will move on for him in 2015 and he can finally take the overall win he is looking for. He has certainly been very close to achieving that this year and the Rathmells' would like to wish him all the very best for when he steps up the ladder to B Class next year.
With regard to the Sherco Extravaganza MRS a provisional date of Saturday, 4th October has already been planned and Trials Central will be bringing you more details of this popular event very shortly.