2014 continues to be a busy year for long serving Red Bull athlete Dougie Lampkin, with the ex multi FIM Trial World Champion having as hectic a schedule as ever. With the Goodwood Festival of Speed and his annual Trials School done Dougie then headed off to Spain to carry on his work with the Vertigo team as they continue to develop the new machine that will break cover later this year.

After a couple of weeks in the Spanish sunshine Lampkin then dashed back to the UK for the Red Bull Air Race event held at Ascot race course. With the aerobatic competition making a welcomed return to the British mainland Dougie joined other Red Bull athletes to deliver an interesting sideshow to the main event as tens of thousands of action hungry fans packed the Berkshire venue.

Lampkin then returned to Spain to enjoy some brief downtime with family and friends before then jetting back into the UK once again, this time to play his part at the Day of Champions which took place at Silverstone ahead of the British round of MotoGP. Here Dougie kept the huge crowds entertained as they made their way into the massive charity event that raises hundreds of thousands of pounds for Riders for Health each year.

Moving on swiftly Lampkin then visited the JCB headquarters in Staffordshire where he completed a series of demonstrations at the two day event for over two hundred and fifty trade customers of Britain's most famous yellow excavators. The privately owned company remains the World's third largest manufacturer of construction equipment.

With hardly time to pack his bags, Dougie then headed back out to Spain last weekend and onward to Andorra where once again he joined up with other members of the Vertigo team at the FIM Trial des Nations event where they met with FIM representatives about their participation in next year's FIM Trial World Championship.

Currently Lampkin is still in Spain, continuing to test the new Vertigo machine before he returns to the UK tomorrow ahead of another JCB event this Friday. With only the weekend to regroup Dougie will then fly out to Turkey early next week to take part in the Red Bull Sea to Sky extreme enduro before then rushing back to the UK once again to compete in the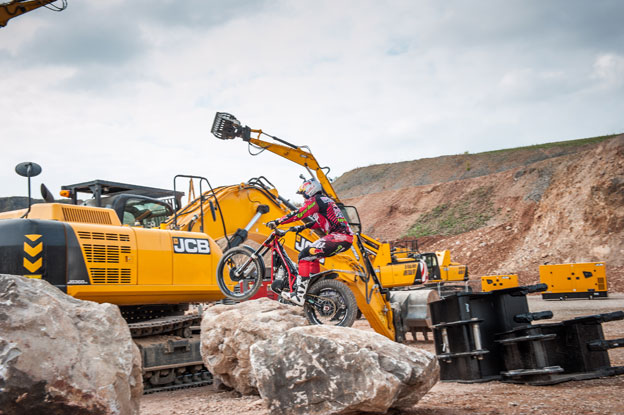 Red Bull City Trial in Manchester on Saturday 4th October, where he will be up against reigning World Champion Toni Bou and other World ranked riders.

"Just reading through what I have been up to in the last weeks makes me feel tired," exclaimed Lampkin.

"No seriously I am busier than ever and really enjoying all the different aspects of what I am doing. Although I am not competing as much as I used to, I am still managing to challenge myself in different ways which is really keeping me motivated, even at my age!" Dougie joked.

See Dougie in action in Manchester on Saturday 4th October - download the free Red Bull City Trial app for full event details.