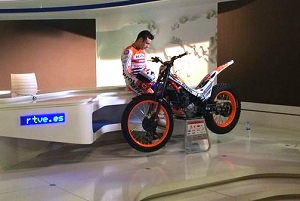 From one record to another. Toni Bou notches up another career high, although this time not in a championship, as the Repsol Honda Team rider achieves more media coverage than ever before. The sixteen times World Trial Champion has been all over Spanish mainstream media with sky-high ratings.
News footage of Repsol Honda Team's Toni Bou had an average audience of over than ten million viewers on various channels in the days immediately after clinching the eighth outdoor world title. Similarly, the rider's success fascinated several million readers in the written press, filling column inches in innumerable newspapers, magazines, and online media throughout the world.
All of this, of course, is the consequence of becoming the greatest rider in the history of trial, and having reached a sporting milestone that is going to be near-impossible to outdo. Toni Bou, on a Montesa Cota 4RT has gone viral in Spain, filling the screen and papers, who have been able to appreciate a home-grown hero storm to the championship title in front of a home crowd. Bou's popularity is skyrocketing, and just like his pirouettes, his images are now circling the planet.