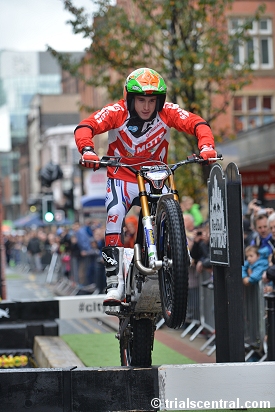 Michael in action at Red Bull City TrialNo.1 JST GGUK Team Rider Michael Brown has re-signed 'today' for GGUK for the BTC, SSDT, Scott Trials and other UK events. Michael has had a good domestic year finishing 2nd in the BTC and also 2nd at the Scott Trial. A 5th place at the SSDT also added to Michaels 2014 achievements after a DNF last year when he 'popped' his knee out damaging his cartilage.
He has also re-signed a contract with the GG Factory to continue with WTC for 2015. Michael finished in 11th place this year which was not the plan and he has struggled with confidence all year and also missed Japan due to tendonitis. Both GG Factory and GGUK know there is plenty more still to come from the 'The Mighty Atom' and have confidence in him both domestically and at the WTC. GGUK will again fully support him as our No.1 rider for 2015 with John Shirt as Team Manager and Factory Kev on the spanners.
This will be Michaels' 5th year with GG which reflects his loyality to the brand. He is fully aware he needs the best possible bike at this time in his career to win back the BTC, Scott and SSDT events which he is more than capable of. He also needs to get back to where he belongs in the WTC which is well inside the Top 10.
Michael "I am delighted to have signed again to continue my relationship with both GGUK and the Gas Gas Factory. Having been with them now for 4 years I feel this is the best place for me to be for both the WTC and UK events. The whole team works well together and I'm looking forward to this continuing next year and beyond. The bike I have is exellent and without doubt the best tool for my attack of next years WTC and BTC. I would like to thank all the team for their support over the last 4 years and cannot wait to get going in 2015"