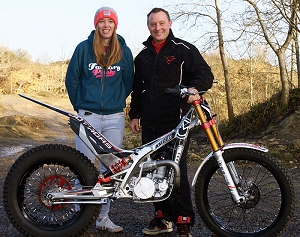 SXS Jotagas team manager Steve Saunders is delighted to announce the signing of World and British number 2, Becky Cook to ride the JT300 Racing in the coming season.
8 times British Champion, Becky will be riding under the SXS Jotagas UK banner and will participate in the British and World Championships along with the SSDT, North Berks Supertrial and other selected national events.
Steve Saunders - "Both the factory and myself are really pleased to have Becky on board. I have worked with her on training days since she was a young girl. Becky is great for the sport and a great example of someone who works hard. We are all looking forward to working together to get the results we are aiming for".
Becky Cook - " I am really looking forward to this new setup for 2015, I have worked with Steve since I was young and he has always been a big influence throughout my professional career. I will be working closely with him to give me the best possible chance to achieve my goal of being number 1 in the world!.
I would like to take this opportunity to thank John Lampkin and everyone at Beta UK for their support over the last 3 years, we have won both British and European championship titles together which wouldn't have been possible without their support."