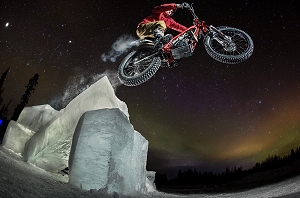 The spectacular Tundra Trial, launched today, is the latest and biggest filming project to date for twelve times FIM Trial World Champion Dougie Lampkin. Dougie teamed up with Red Bull Media House and film director Stu Thomson who has been responsible for Danny MacAskill's best viewed projects, to bring to life one of his previously unfulfilled challenges in one of the most hostile environments known to man.
In order to explain more about this unique project, the resulting adventure and how the idea for Tundra Trial first came about, Dougie said "Throughout my long career I have always liked to push myself, at one point the challenge was to win as many World titles as possible, but with me now riding fewer competitions I have got more time to challenge myself in other ways. Over the years I have had the opportunity to ride in every continent and in many, many countries on a whole variety of terrain, but never snow and ice so it was something I always wanted to do. Also it was something that no one has done before to this extent, so I wanted to be the first to do it."
"The idea really started to take shape when I mentioned it to Red Bull and they said why not, lets' make it happen. I didn't need a second invitation, and within a couple of weeks we were flying up to Lapland - northern Finland - right inside the arctic circle to recce the Snow Village and its Ice Hotel. The place was simply amazing and the people were even better. We got to meet Rami who actually builds the Ice Hotel each year and who is an expert in ice construction, and just like Red Bull he was really keen to make the project happen. So, a date was set for us to go back to film just before the hotel melted and we headed home with much work to do in terms of getting everything together and to make sure that the bike would work in those conditions."
It was a massive ask, but we managed to do it. Overall I thoroughly enjoyed making the film and am really pleased by the way it has turned out, so I hope everyone who watches and shares it likes it just as much as I do."
Tundra Trial was filmed entirely on location in and around The Snow Village - www.snowvillage.fi - in northern Finland.