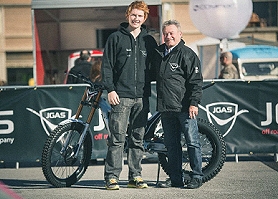 The British rider Jack Sheppard has signed with JGas for the next season, 2015. Jack will participate as an official rider in the 2015 World Championship with a JGas 300cc Racing.

Jack is pleased with the new situation: "The opportunity to be the main rider for JGas in the World Pro category is too good to turn down. I am very impressed with the quality of the bike and the way it rides. I look forward to start working with Steve Saunders, Jordi Pascuet and the rest of JGas team. I would also like to take this opportunity to thank John Lampkin for all the support I have received during my years at Beta. "

The team manager of SXS Jotagas Team, Steve Saunders says: "Jotagas UK are pleased to have Jack on board and look forward to working with him; Jack has always been good for the sport as well as a great rider. This will enhance the JGas brand both in the UK and around the world".