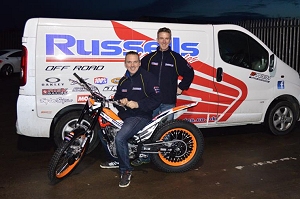 11 times Ulster Trials Champion Andy Perry has agreed terms with Local Montesa Honda Importer Russell's Motorcycles for the upcoming 2015 season.

Perry is delighted to be given the opportunity to help promote the Montesa Honda brand and can't wait to get down and dirty with the fantastic 4 stroke trials Iron which coincidently is the same machine that Current 8 time's indoor and 8 time's outdoor World trials Champion Toni Bou has successfully piloted since 2007.

The machine is simply amazing, the whole package is a dream come true and I can't wait to get stuck into the new show season, I will also be competing at as many Ulster and Irish championship events as possible added Perry

With his own trials promotion company "Trialstar ltd" Perry will be performing at shows and displays all over the UK to entertain the masses with the new Russell's Montesa Honda and can't wait to fire the machine up the man made obstacles.

My first outing will be the traditional Boxing Day event promoted by the Ards Motorcycle Club at the fantastic lead mines, Conlig. The machine is totally different to the 2 stroke machines I have ridden all my life and I have to change the way I ride and adapt to the 4 stroke engine, it's a very exciting new venture. I've been riding at the top level in Ireland for 21 years so this has rejuvenated my drive and totally re-motivated me. I'd like to thank Russell's Motorcycles and Honda for this amazing opportunity and I look forward to getting out on the bike and promoting the brand.