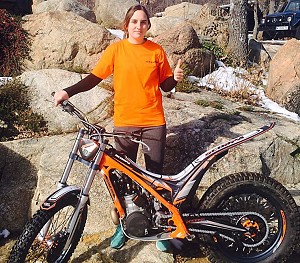 Scorpa Motorcycles is very pleased to have reached an agreement with the Spanish Trials rider Sandra Gómez, she will compete for Scorpa in the 2015 sports program and help develop the new Twenty series.
The young Spanish rider is a Grand Prix champion in the women's division and is an accomplished competitor in the most important races on the trials calendar. Sandra Gomez at age 22 has accumulated an impressive record, with several world team titles to her credit, in addition she has won several national titles and she is credited as one of the world's best female specialist's in trials competition.
Scorpa Motorcycles, after developing the new Scorpa Twenty will therefore squarely enter into the sport, betting on the skills of the young Spanish rider the 2015 season. Sandra is considered to be one of the top players in the world of women's trial.