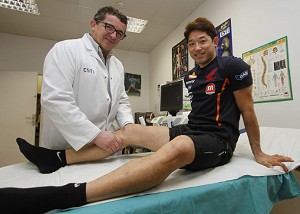 After five months out of action, the Japanese Repsol Honda Team rider, Takahisa Fujinami looks set to make his return with the Repsol Honda Team. With his right knee almost fully recovered after surgery last September, the ex-world champion has now begun to combine the Centre d'Alt Rendiment de l'Esport (CAR) centre's rehabilitation exercises with his first training back on the bike.
Fujigas was operated on for a torn anterior cruciate ligament on the right knee, which had forced him to complete the entire 2014 season at a clear physical disadvantage. The rider went straight in for the operation when the 2014 world championship finished, after having picked up an overall fifth final place, as well as a win in the opening event in Australia.
Doctor Jordi Puigdellívol, a specialist orthopaedic surgeon and one of the three doctors who operated on Takahisa Fujinami, explained that the injuries suffered were sustained at the end of 2013, but the operation was put off until the end of 2014 so as not to jeopardize either the indoor or outdoor season. Recovery time for this kind of injury is usually six to eight months. Working together with Dr. Puigdellívol were Dr. Joaquim Terricabras and Dr. Lluís Til, likewise, orthopaedic specialists. So too was Dr. Antoni Turmo, sports medic for the Centre d'Alt Rendiment de l'Esport at Sant Cugat del Vallés, Barcelona, an internationally recognized centre for sports training and preparation, who oversaw Fujinami's post-operation convalescence.
Doctor Til, from CAR, stressed that"With an injury such as Fujinami's, it's difficult to maintain a high-level of competition, but we decided to continue with the training to reinforce the articulation and reduce the risks associated with such an injury; he was able to continue competing at top-level, even winning in Australia, but was forced to undergo many rehabilitation sessions, without which he wouldn't have been able to take part in any races at all. Over the course of the season, the knee proved to be unstable in such a demanding high-level competition. It was continually swollen, showing that something was amiss and a decision was made to operate at the end of the season. "
Doctor Til graphically sketched the Repsol Honda Team rider's injury,"Like a vehicle's shock-absorber: if one is broken, the rest get overly-punished and worn out. When we opened him up, we saw that the knee had suffered a lot, because with an injury of that kind, in a high-intensity athlete, the damage is more acute. "
An operation for the reconstruction of the cruciate ligament took place on September 9, then it was straight down to the business of post-surgery rehabilitation at CAR de Sant Cugat with work to foster strength, coordination, balance, stamina, fatigue; all with the aim of getting the rider back in the saddle as soon as possible.
Now, five months later…

Physiotherapist Miquel Àngel Cos and trainer Lluís Capdevila have affirmed that thanks to his willingness, Takahisa Fujinami has been able to speed up the recuperation process considerably. Fujigas has dedicated four or five hours a day to the task in the battle to get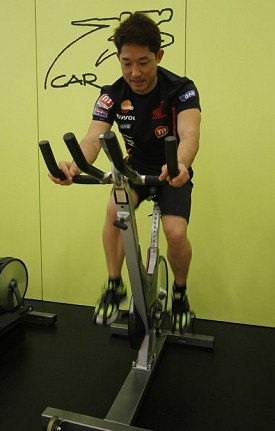 back among trial's elite. Dr. Til, Dr. Cos and Dr. Capdevila agree that the Japanese ace is both a physical and mental powerhouse."He's pushed harder than anyone, and the doctors, trainers and physiotherapists who have been working with him have been highly-motivated. He has progressed significantly,"points out Dr. Til.
With just over six weeks to go until the start of the world championship with the Japanese Grand Prix, trainer Lluís Capdevila believes that the new ligament"is now recovered and even stronger than before. Fujinami has worked really hard to get over the knee injury.
He's in top physical condition, and we've put him through many exercises to strengthen the articulation". Capdevila has been training the Team HRC star to get him back on the bike in optimum physical conditions.
After five months without touching a motorcycle, the CAR team have carried out simulated exercises in the gym, similar to those of trial, to fully prepare and reinforce the joint. Every sport has differing demands, with certain exercise-sets that help improve general strength, stamina and balance; and other more specific ones, which emulate the bike-riding position working the particular muscle groups required for trial.
Fujinami is once again back on his bike of choice – the Montesa Cota 4RT – in his bid to get back to the top. The recovery process will, however, continue throughout the 2015 season and its evolution will be closely monitored."The real baptism of fire has been to get back into training on the bike, and he's passed that test positively,"stresses Capdevila, confident Fujinami will return to the competition stronger than ever.