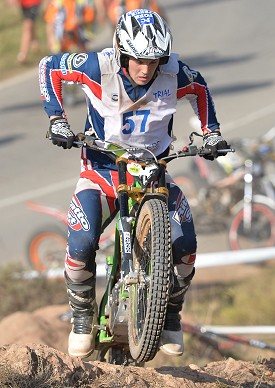 Billy in action at 2015 World ChampionshipYoung up and coming Trialist, Billy Bolt, has high aims for 2015. Having established himself on the world circuit last year, the 17 year-old from Wallsend in North East England has set up a crowd funding appeal to assist with the costs of competing in Trials at the highest levels in 2015. Whilst the Ossa factory, for whom Billy rides, will provide a bike and technical support at each round of the World Cup and European Championships, Billy, who will not turn 18 until August, has to fund his travel expenses for these championships and the costs of competing in other events during the year including his first attempt at the Scottish Six Days Trial, each round of the British Championship, and the famous Scott Trial.
Billy has been riding trials for 10 years now, initially on a TY80 in the North East Centre before competing in the British Youth Championships on Beta and Ossa machinery. Billy first competed in the World Championships at the French round in 2013, just 14 days after his 16th birthday finishing in second place in the 125 class on a 2014 model Ossa supplied by the factory. For 2014 Billy elected to go straight into the World Cup and compete on a 300cc Ossa, his best result being a 6th place in Belgium.
2014 was a difficult year as Billy moved out of the youth category early and tried to establish himself at World Cup level against older more experienced riders. The highlight of Billy's year in the UK was his first attempt at the Scott Trial where he achieved his objective winning the best first timer award in 12th place.
The Ossa factory have recognised Billy's potential and are offering factory support but competing at this level is very expensive. Billy is really appreciates the support from long term sponsors PC Fork Trucks, Palletforce and Ossa UK. In addition clubs from the North East Centre have contributed £1500 towards Billy's costs for this year with other donations from companies and individuals being gratefully received.
Billy's targets for 2015 are to finish on the podium in the World Cup and European Championships, to win the 125cc and best newcomer awards at the Scottish Six Days and to win a gold spoon in the Scott Trial. Billy is a dedicated individual who puts in many hours of training and practicing in order to achieve the targets he has set himself. In competition he gives 100% at all times. The support from Ossa and provision of a factory bike is a tremendous opportunity for this young rider but he needs your support to get there.
If you would like to help please make a donation through the crowdfunder site here or contact him directly at This email address is being protected from spambots. You need JavaScript enabled to view it.