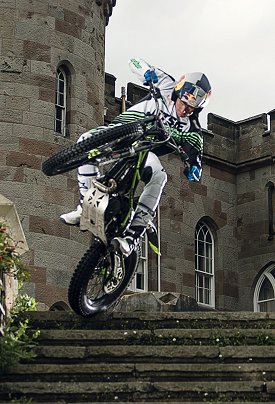 Without even a moment to celebrate his recent and ninth victory at the Scottish Six Days Trial (SSDT), former multi World Champion and Red Bull UK's longest serving athlete moved swiftly on to his next project.
Lampkin, who is set to make his debut at The Cholmondeley Pageant of Power next month, headed immediately south from the Scottish Highlands for three days of rehearsals and filming in the stunning grounds of the romantic gothic Cholmondeley Castle.
Now in its eight year The Cholmondeley Pageant of Power returns to its roots this time around by celebrating 'power' in all its forms, and with Dougie's list of achievements including twelve FIM World titles, nine SSDT wins and nine-ninety Grand Prix victories there is no doubt that the now thirty-nine-year-old born and bred in Yorkshireman is an absolute 'power house' in his very own right.
Along his extensive list of honours, over more recent years Dougie has become equally famous for his extraordinary exploits with millions of viewers from around the World having enjoyed watching him ply his skills in an every growing range of unusual venues and locations. Since beginning this chapter of his long and illustrious career in and off the roof of Goodwood House back in 2008, Lampkin has ridden in a variety of buildings including the famous Canary Wharf building in London city district, the Infiniti Red Bull Racing - F1 factory in Milton Keynes and the amazing Ice Hotel in Lapland just last year.
Always looking to challenge himself, Dougie aboard his Vertigo Combat was drawn to The Cholmondeley Pageant of Power as it incorporates air, land and water over its three days of action which this year will take place on 12/13/14th June with the Vertigo rider set to play his part on the Saturday and Sunday of the event. Granted permission to ride wherever he liked, Dougie made full use of these three key elements (air, land and water) as he explored the Cholmondeley venue from the castle roof, through its amazing gardens and ornate ponds right down to the main Deer Park Lake.
The public will be able to get a taste of what they can expect when Dougie makes his debut at The Cholmondeley Pageant of Power next month, by watching BBC One - The One Show on Monday 25th May at 7pm. BBC presenter Andy Kershaw caught up with the former World Champion during his recent rehearsals and got to see behind the scenes as Lampkin put the finishing touches to his latest short film project that will be released on redbull.com on Monday 25th May to coincide with his appearance on primetime TV early next week.
Speaking about his forthcoming appearance at The Cholmondeley Pageant of Power and the recent associated filming at the estate, Dougie said. "Cholmondeley is an amazing place and the Pageant of Power promises to be something very different and special. Again I need to thank Red Bull for supporting me as I continue to look to challenge myself in different ways. Having the chance to experiment with riding on water was another first for me and for the sport of Trial. When added to the land and air parts this will create a great film that will again take offroad motorcycling to new audiences as well as showcasing something that is so typically British in every way."
Images: Sam Needham/Red Bull