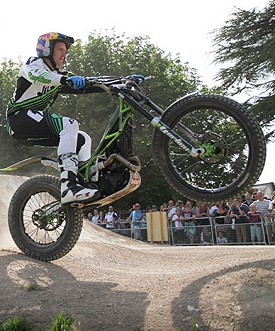 With summer having finally reached British shores Red Bull athlete Dougie Lampkin is currently engaged in one of his busiest periods of the season with the ex multi FIM Trial World Champion's services continuing to be in high demand. Last weekend saw Dougie make his now annual trip south as he once again played his part at the famous Goodwood Festival of Speed.

Over his four days spent riding in the extensive and sprawling grounds of the imposing stately home Lampkin played to an audience in excess of one hundred and fifty thousand people who again flocked to see this quintessentially British motorsport extravaganza. Dougie joined fellow Red Bull athletes from a varied range of other disciplines in the GAS (Goodwood All Sports) arena for a series of action packed and choreographed shows that took place Thursday through Sunday.

In addition, with the kind permission of Lord March, Dougie also explored and visited several other areas of the event where he performed on a more 'up close and personal basis' and had the opportunity to meet many of his fans face to face, sign autographs and pose for countless selfies.

The traditional Saturday evening ball gave Dougie the chance to meet and spend time with a whole host of fellow legendary motorcyclists and other motorsport greats before assembling for an iconic World Champions group photo on Sunday morning, which has been shared and published extensively by the World's media over the last few days.

Alongside his many performances, Lampkin also remains busy with his role as development rider, brand ambassador and sports team manager for Vertigo, as their prototype Trial bike continues to make its mark on the World stage and receive high praise wherever it is viewed. This coming weekend Dougie will be in Andorra for the latest round of the FIM Trial World Championship, which brings to a close a run of five GPs in the last six weeks scattered throughout Europe and Scandinavia.

Lampkin will remain in Andorra next week to conduct a three day high altitude test with the revolutionary fuel injected bike before then returning back to the UK briefly ahead of the long journey to the USA for the next Trial GP. Following his visit to America, Dougie will then look forward to his annual public Trials School early next month before his second appearance at the UK leg of the Red Bull Air Race series at the Ascot race course.

Whilst as hectic as he was during the height of his competitive riding career, Dougie is thoroughly enjoying his new roles as he explained. "I love being busy and being involved in so many projects. As any rider will tell you when you stop competing at the highest level you worry what the future might hold, but thankfully I haven't had time to even think about that yet."

"Be it Pageant of Power, Goodwood Festival of Speed or the Air Race, Red Bull keep finding new ways for me to challenge myself and to take the sport of Trial to new and bigger audiences. Goodwood was as good and as special as ever, and to be amongst so many other World Champions was unforgettable and the group photo is something that will take pride of p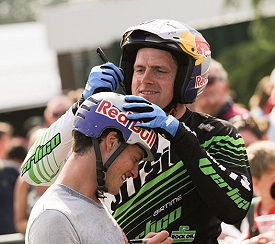 lace in my office."

"The Vertigo project is also keeping me on my toes too, working alongside James Dabill at the World Championship and acting as test rider both for the competition and production models means I am travelling and riding as much as ever. It's great as I still love to ride and to be in the paddock so it never actually feels like a proper job."

Lampkin rounded off by saying. "It's hard to believe that we are already halfway through 2015. It's been a good year so far and I am sure the next six months will be even better as there are a lot of exciting things in the pipeline."
Images courtesy of Goodwood