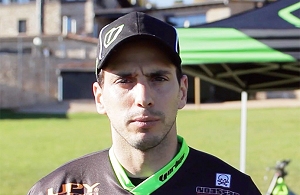 Vertigo Motors is delighted to announce the signing of World number three Jeroni Fajardo to their factory team with immediate effect. The thirty year old Spanish rider has reached an agreement with the Barcelona based company that covers an initial two year period with both parties hoping to be able to exploit the option to extend this period in the future. Fajardo who finished third in this year's FIM Trial World Championship and fourth in the 2015 FIM X-Trial World Championship will again contest both World series in 2016 as well as continuing to compete in the Spanish national domestic series.

Fajardo will join James Dabill and Francesc Moret in a multi pronged attack next season as Vertigo looks to continue its programme of development, refinement and reliability testing by again competing at the highest level. Fajardo will make his Vertigo competitive debut aboard the revolutionary fuel injected two stroke Combat at the opening round of the 2016 FIM X-Trial World Championship on Saturday 9th January.

Ahead of an intense period of training and testing to be ready for his maiden outing at Sheffield, Jeroni will first be on hand tomorrow at the EICMA motorcycle exhibition in Milan, Italy where Vertigo will unveil its range of new models to compliment and to add to the already widely applauded Combat model that was first revealed in the same halls just twelve months ago.

Speaking about joining the Vertigo factory team Fajardo said. "I am both very happy and proud to be joining Vertigo as it is a project I know very well and one that I have followed very closely over the last two years or more. Both the bike and the team has made amazing progress in such a short period of time and now the moment seems perfect for me to join the project at a stage in my career when I am looking for new motivation and a fresh challenge."

"It is fair to say that I know already the performance of the Vertigo Combat and I am confident that together we can make some strong results. Obviously there is work to do, as I need to adapt to the new bike and to get it set up to suit my style plus I need to learn how to work with the new team, but it is a challenge I am very much looking forward to. I already know many of the team well including James (Dabill) so I am sure that we can work well together."

"It will be great to be in Milan tomorrow and to be part of the team as Vertigo takes the covers off some more new and exciting projects. After that I will be heading back to Spain immediately to begin my preparations in order to be fully ready for my first event in Sheffield."

Jeroni rounded off by adding. "Finally I would like to take this opportunity to thank Beta for their support over the last few years."

Commenting on the signing of Fajardo Vertigo brand ambassador Dougie Lampkin said. "Bringing Jeroni to the team really signals Vertigo's intent to succeed at the highest level. I have known Fajardo for many years and he is both a great rider and a great person too, he will be a great addition to the team alongside James (Dabill). I am sure both riders will motivate each other and with that in mind I am really looking forward to working with both of them next season and to getting the results the team deserve."

Vertigo Motors will use the occasion of this year's EICMA motorcycle exhibition in Milan, Italy to display the 2016 Combat production model that was recently launched to selected distributors and media, but is yet to be viewed by the wider audience. In addition to revealing the updated Combat model, the exhibition in Milan will also give the Spanish company the opportunity to unveil a selection of other new and exciting projects.

These will be presented to the media at 12.00hrs on 17th November 2015 during Vertigo Motor's official press call.

Vertigo Motors can be found in Pavilion 13 - Stand O56.

Vertigo Motors look forward to welcoming the public, distributors and media over the duration of the exhibition and sharing with these interested parties the new product range.

EICMA takes place at Fiera Milano, SS. 33 del Sempione 28, 20017 Rho, Milan. Press and trade visitors are welcome from Tuesday 17th November with prior accreditation. The exhibition is then open to the public from Thursday 19th November to Sunday 22nd November inclusive.