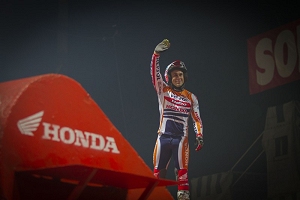 The Repsol Honda Team rider Toni Bou will not participate in the competition FIM X-Trial of Nations to be held in Nice, France, after being injured in training yesterday.

Toni Bou suffered yesterday a fall during a practice session as consequence the right shoulder was injured. After passing through the Creu Blanca Clinic in Barcelona and be visited by a specialist, he was diagnosed with a partial tear of the subscapularis tendon of the right shoulder.
For this reason, the rider and the Montesa Honda Team managers have decided, as prevention, not participate in the race of the FIM X-Trial of Nations to be held in Nice tomorrow. Meanwhile, the current world champion will start a conservative medical treatment that provides the best chance for him to compete the start of the FIM Trial World Championship (outdoor) to be held on 9 and 10 April in Olvan / Cal Rosal, Barcelona, Spain.