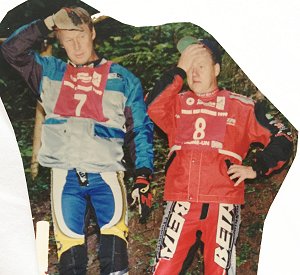 It is with the greatest sorrow and one of the saddest of sad days when I received the phone call to say Martin was no longer with us. We have been mates almost a lifetime – about 53 years to be more precise!
I want to say at the very start of this article that I have written it in the spirit of how Mart would have wanted me to be. Our whole life together was full of banter and he would not have wanted me to write this in any other way now.
We first met as young lads running around the local scramble tracks. Mart was there with his brothers, 'Ping' (Arthur) and Sid (Alan) who were both top scramblers. I just used to go with anyone who would take me – he always had it easy!! The rivalry had already started!!
We got to know each other well in the mid to late 60's when we were both riding local trials. We played cricket for Blubberhouses, darts for the Hopper Lane pub and dominos in the Lion at Silsden – two common things here - competition and pubs!!
Through the late 60's we played hard but we also learned all the basics of competition on motor bikes: trials, scrambles, grass track and Mart even dabbled in speedway. Then we started 10 plus years of our intense rivalry in the British, European and World Championship but what a fantastic time it was. Tense and cut throat through the event then all forgotten and a couple of beers at night.
About 1970'ish Mart had this bright idea to buy a coal round. He didn't really like his job and I was on the verge of getting the sack from the forestry for having so much time off riding. Seemed like a good plan and all went so well we added a second round. All was great for the first few months when we were at home but then the championship started. We hadn't thought about that when we discussed it over a few games of dominos in the Lion at Silsden and it didn't seen such a great idea once the Trials kicked off. So off we went to the European Championship for a few weeks. We had a lot of very cold customers and had to pay someone to do it for us!
The memories that spring to mind in all our years of travelling have to be the fishing in Finland to see who could catch the biggest fish, the boating in Sweden where he tried to drown me (I can't swim), the girls in Czech (he s*** himself!), the cars in the US. We got the biggest car we could find on our first trip to America, but I once sent him to buy a pizza and it was so big he couldn't get it in the bloody car. The troubles in Northern Ireland (he hated it), the poverty in the Eastern bloc where you had to change a certain amount of their money on arrival but there was nothing to spent it on. We once brought back 45 pairs of desert wellies just to spend the money. In France when he set the van on fire making chips and then all the brilliant times we had at the factories in Barcelona with the Bultaco and Montesa families. Its really just impossible to list every memory, I would need a book and if 'H' was here there would be a lot more I have forgotten.
After we both retired from riding I bought a hotel with Rhoda in Grassington and Martin and Isobel bought a pub at Greenhow, a mere five miles apart. Well we figured we had both lived in hotels for twelve years and had certainly spent a lot longer in pubs so it seemed the ideal answer to what we did in our retirement.
We should have known then that motorcycling was in our blood and it wouldn't be long before we were back involved with it again.
So after our stint in 'The Real World' just a few years later it all started again with another 10 years plus where Mart was with Dougie and I was with Graham only this time we could have more beer!!
Some of my greatest memories through this time have to be the Trial Des Nations where against all the odds we managed to pull off the wins with Mart and myself leading the troops, so to speak! Our first win was in the Isle of Man in 1997 but 1999 was a classic as the organisers had mistakenly thought Steve Colley had a five on the last section but in fact cleaned it. The guy at the end had put a five as that was his riding number! I just remember Mart standing on a chair with a huge jug of beer singing 'We are the Champions.' We followed this in 2002 in Portugal and 2003 in Italy – the memories of those wins, against all the odds, where Mart and I worked together with our GB team were unforgettable.
To any outsiders Mart came over as a big, rough Yorkshireman. In some ways he was. He didn't stand fools but found one in every bar we went in but he had the biggest heart and the softest spot possible. A great, great friend and a brilliant mate and an exceptional competitor (but I usually won)!!! You have to remember that if 'H' had written this it would have been the total opposite of what I have said!! That's how it was between 'H' and myself. The friendship I had with him was special and unique. It didn't matter if we were seeing how many stones we could throw into a bucket at the SSDT waiting for Doug and Graham or whether it was to see who got to the pub first when we were out having a meal in later years – it was a competition. However, it was a competition which we both hold in great respect of each other and that one thing that can never be taken from me - 'memories' which will stay with me forever.
Mart will be sadly missed by everyone who knew him but especially by his close friends and family. The Lampkins' are known for their closeness and I can't imagine the affect this will have but they are strong and will hold together throughout this sad and cruel time. My love to all of you.
God bless and RIP mate. I'll see you up there.
Malc