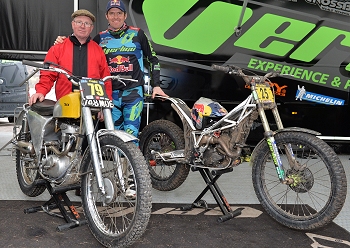 A study of the names engraved on the imposing North British Rubber Company trophy presented to the Scottish Six Days Trial winner each year will quickly reveal the long, rich and victorious relationship that the Lampkin family has with this historic event. A relationship that stretches back to 1963 when Arthur Lampkin first collected the main prize and unknowingly would continue right through until today with his nephew Dougie Lampkin - Vertigo having just seen his name etched on the winners' plaque below the silver statue for a record extending tenth time.
After Arthur came Alan, better known as Sid, who pioneered his BSA to the top spot three years later in 1966. Sid's win was one that stood the test of time as he was the last rider to secure victory on a four stroke machine, a record that stood right through to 2007 before James Dabill won on his Montesa Cota 4RT. This year's SSDT marked the fiftieth anniversary of Sid's win, an anniversary that was marked by his son James riding the same winning BSA in this year's Pre65 Scottish two-day event that now acts as a prelude to the main event each year.
Not wanting to miss out Martin Lampkin matched the achievements of his two older brothers, Arthur and Alan, as he went on to win the Scottish in 1976 aboard his famous Bultaco. This was to prove the start of a great period for Martin in the Scottish Highlands as he completed a memorable hat-trick over the following two years during what many regard as one of the golden eras for this classic competition.
Whilst there was no Lampkin winner during the eighties Arthur's eldest son John kept the family name towards the top of the order, his best result coming as he finished runner up to Steve Saunders in 1989. John's association with the SSDT continues today in his role as Beta importer, a role he took up when his own riding career was brought to a premature end due to a serious leg injury sustained during a horrendous car accident that was no fault of his own.
The nineties saw the arrival of Dougie to the SSDT, and at just his second attempt in 1994 and aged eighteen the rookie was to take his first Scottish victory much to the surprise of his more experienced rivals. Proving that his initial win was no fluke Dougie returned the following two years to win on both occasions to match the feat achieved by his now late father Martin.
World Championship winning duties forced Dougie to be absent from the Scottish Highlands before he made an epic winning return in 2008. A year later in 2009 Dougie equalled the record of five SSDT victories previously held by Sammy Miller and Mick Andrews, a tally he was stuck on for a couple of years as a machine fault and an injury mid event prevented him getting his hands on the famous trophy again until 2012.
His sixth Scottish win in 2012 made Dougie the most decorated rider in the hundred plus year history of the almost week-long event. For most people this might have been the time to hang up their boots, but not for Dougie who came back to win on three more further occasions in 2013, 2014 and 2015 to take his tally to nine SSDT wins and to give Vertigo an historic debut victory last May.
Dougie arrived in Fort William just over a week ago with an incredible tenth victory in his sights, but now aged forty and with his preparations disrupted and restricted by the sad and recent passing of his father and closest aide after a year plus cruel battle with cancer, he was carrying much extra pressure even on his broad Yorkshire shoulders. Accompanied by his younger brother Harry, cousin James and close friends Paul Dixon and Amos Bilbao throughout what was an incredibly tough week both physically and mentally for Dougie, the man once again showed himself to be a true champion as he clinched perhaps his most poignant SSDT victory to date very much in memory of his dad.
In doing so Dougie has again extended the Lampkin's long association with the Scottish Six Days Trial, and once the raw emotion had subsided has vowed to be back in 2017 to defend his title. Dougie was just one of over two hundred and eighty riders from twenty nations who competed in this year's event again organised by Edinburgh & District Motor Club. Continuing the centenary plus long tradition the SSDT will again return to Fort William and the Scottish Highlands early next May.
Story provided by G2F Media