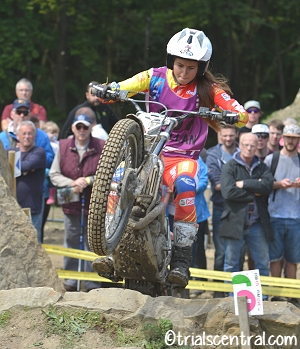 Originating from the same country as Laia Sanz and also Toni Bou, sixteen-year-old Berta Abellan – Beta is the latest Spanish Trial sensation to come to prominence. The angelic looking teenager currently sits third in the 2016 FIM Women's Trial World Championship following an incredible showing at the opening round of the series held earlier this month in Tong, Great Britain.
Ranked seventh come the close of 2015, Berta had started to show some of her potential last season with a string of consistent results across the five counting days of competition. A pair of sixth places represented Abellan's career best finishes prior to the current campaign, with the then fifteen-year-old claiming these positions at the opening round in the Czech Republic and also at the following round in her native Spain.
However, Berta has already surpassed her previous achievements by recording fourth spot on day one in Great Britain to open her 2016 assault, which she then followed up with a maiden podium finish just twenty-four hours later as she placed third behind the much more experienced British duo of Emma Bristow – Sherco and Rebekah Cook – TRS.
Abellan made her debut in the FIM Women's Trial World Championship in Andorra back in 2013 aged just thirteen-years-old when she finished a creditable eighteenth at her first attempt. The young Spanish rider then had to wait until the next season before she scored her first championship points, two of them in fact as she secured fourteenth position in Belgium aged fourteen.
To date Berta has competed in fifteen events and has scored points on eleven occasions and as such has amassed a total of eight-nine points, a tally that is sure to rise sharply before the end of the year with three counting days still remaining.
Reflecting on her opening round results and looking ahead to the next encounter in Italy Berta said. "I trained hard over the winter, but my results in Great Britain were better than I expected. Fourth was hard to believe and third place was like a dream. I would like to thank my minder, my father and all those people who have supported me and without them these results would not have been possible. I will continue to train hard over the summer break, but more on the bike rather than in the gym for now. I suppose my goal for Italy is to be on the podium as it would be great to have that feeling again, it will be difficult but I will be giving 100% as always."
Abellan closed by saying. "Coming from Spain, I will always be compared to Laia Sanz. I am still only very young and she was a great champion so she is a good reference, but now I am looking to Emma Bristow, as she is now the female rider with the best level and technique."
The 2016 Women's FIM Trial World Championship continues in Valchiampo, Italy on 3rd/4th September, with the final round taking place in Isola 2000, France on 9th September.