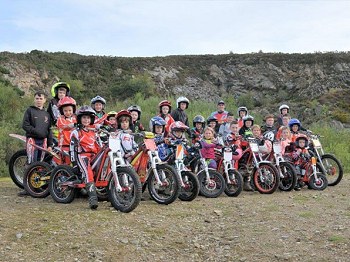 During a recent visit to the Isle of Man to recce the famous TT Course, which he will attempt to wheelie in its entirety in just over a week's time (Saturday 24th September @ 5pm - Watch Live on Red Bull TV Click here for more information), Red Bull athlete Dougie Lampkin made time in his hectic schedule to run a free training session for young trial riders on the island.

More than thirty local youth riders, aged from four to fifteen years old, were taught by the former twelve times FIM Trial World Champion during the session that was organised and hosted by the Isle of Man Youth Trial Club at the well known Dhoon Quarry venue.

The young riders were split into three groups based on their ability level, and whilst the younger members initially showed signs of being nervous under the watchful eye of Dougie, a few well-chosen words of encouragement from the ten times Scottish Six Days Trial winner soon saw the youngsters producing their best riding.

The intermediate group was less fazed by Dougie's imposing figure and were quickly tackling a higher level of sections where they focused on line and concentration to improve their already competent riding skills. Finally, the current cream of the Isle of Man youth ranks who are already competing at national level in the respective boys and girls British championships got to show Lampkin their talents. Dougie was most impressed by their high standard and predicted that if they continue to work hard there may be a few future champions amongst their ranks.

The highly successful and well received training session was rounded off by Dougie taking the time to sign autographs on the t-shirts, helmets and posters brought forward by the youngsters as they looked to secure their own momentos of this great occasion.

Delighted to have the chance to teach the youngsters Dougie said. "The wheelie project has definitely been life consuming over the last few months, so it was great to be able to take some time out and to share it with such a great bunch of young riders. Whilst there was a wide range of abilities the effort from each and every kid was simply amazing. Amongst the top group there was some great riding, and who knows one day one of them might become champion if they keep putting the practice in. The Isle of Man is such a great place to ride bikes, so the youngsters certainly have that on their side and have plenty of support too from what I saw on the day.