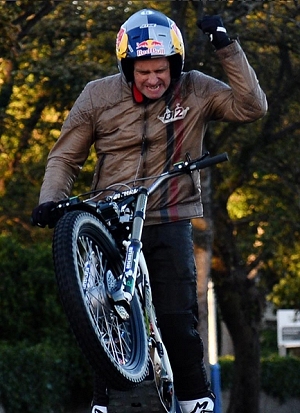 History maker and long standing Red Bull athlete Dougie Lampkin continued to add yet another incredible achievement to his already legendary status as he successfully managed to wheelie his factory Vertigo continuously around the entire Isle of Man TT Course. Putting his unblemished and outstanding reputation at stake, forty-year old Lampkin became the first ever person to complete the 37.7 mile course on just one wheel with his incredible feat being shown live on Red Bull TV.

After over seven months of intensive training and meticulous preparation Dougie's attempt was put in doubt as gale force winds on the famous motorcycling island meant that the unique and difficult challenge had to be postponed for twenty-four hours. After the nervous delay Lampkin set out on his historic journey at five o'clock precisely from the iconic TT grandstand where a large crowd had gathered to support the twelve times FIM Trial World Champion.

The sheer magnitude of the task weighed heavily on Lampkin's face with him looking extremely tense as he made his way down Bray Hill and out through Quarter Bridge under heavy skies. By the time Dougie had safely navigated his way through the twists and turns that lead to Glen Helen the rain was starting to fall with purpose and added an extra level of severity to the occasion.

Further crowds lined the route as Dougie headed towards Kirk Michael where an oncoming bus almost blocked his path in the narrow main street, which would have brought a premature and frustrating end to his attempt. However, the convoy somehow managed to squeeze through and focus its attention on Ramsey where newly added road works also increased the level of jeopardy as Lampkin moved ever closer to the infamous mountain section of the course.

Whilst the rain had now stopped and the sun was doing its best to shine through the clouds the weather was about to offer up its toughest test yet with strong winds being obviously apparent as Dougie negotiated Ramsey Hairpin with relative ease before running into trouble at the Gooseneck where he was close to dropping the front wheel twice in quick succession.

With the wind gusting at over 40mph Dougie called for protection and brought one of his support vehicles alongside to help shield him from the severe buffeting he was now receiving as both mental and physical fatigue began to take its toll. Positioned just inches away from the rear of the lead vehicle Dougie could not afford one single mistake as he fought his way over the exposed mountain section. The sight of Kate's Cottage and the long descent to Creg-ny-Baa signalled that Lampkin was now on the final run in and that he was in with a real chance of reaching his goal.

Despite being exhausted Dougie showed great skill as he survived the tight turn into Governors Bridge before emerging back onto the famous Glencrutchery Road where the finish line lay in wait for one of Britain's most decorated motorcyclists of all time. The sheer relief and delight was clear to see as Dougie punched the air as he lofted his way over the line and was greeted by a large cheer from a history witnessing crowd. A few moments later Lampkin was back in pit lane where the welcome party and his team started the much deserved celebrations with the obligatory spraying of champagne that Dougie was soon to bring to his lips.

An unusually emotional Dougie said. "That feels amazing. It was so tough out there, the wind was much stronger than we expected on the mountain and really put the whole thing in doubt. To be the first person to wheelie around the TT course ranks right up there with my best achievements and is something I won't ever repeat. This project has been difficult and complicated every step of the way and the weather this weekend was yet another thing we have had to deal with."

"I can't thank everyone who has make this project possible enough, my team has been absolutely brilliant and once again Red Bull has helped me bring to life what was just an idea that has certainly grown in to something that is massive."