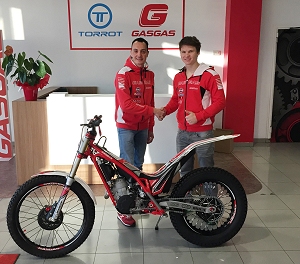 The young Bavarian trial whiz-kid, Franz Kadlec and Gas Gas are set to continue their successful relationship which has resulted in their winning the last three German trial championships. Kadlec,who after winning the 2014 European Trial Championship made the jump to the top Trial GP class will once again be battling to find a place in the FIM Word Championship X-Trial and aiming for a WTC top five finish.


The undisputed master of German Trial for the last three seasons, Kadlec's eleventh places in 2015 and 2016 in Trial GP, is confirmation of the ever upward trend in results of this young rider, only 19 years old, from Bad Tölz, in the World Trial Championship.


Kadlec, who will be riding a Gas Gas TXT 300 Racing bike for the official Gas Gas Factory FG Trial Team, will combine his participation in the World Trial Championship (indoor & outdoor) with the German Trial Championship where he will be competing to retain the title.