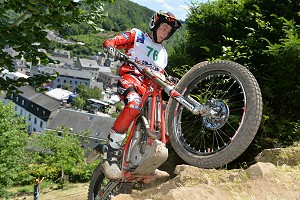 When the TrialGP season gets underway in Spain in just under a month's time, it will represent the biggest challenge so far for British rider Jack Peace in his short, but already very successful career.

Jack, who celebrated his seventeenth birthday in March, dominated the 2016 FIM Trial 125cc Cup with ten wins and three runner-up finishes from thirteen starts. He also swept the Junior European championship, remaining unbeaten throughout all six rounds.

Now it is all change for the Gas Gas rider who moves up to the Trial2 class and also moves up to a 250cc machine.

"It's been a busy winter and I've been practising a lot in between doing schoolwork," said Jack. "It's my first year in sixth form so I'm trying to balance school with riding trials."

Jack takes his education seriously - he is studying biology, business studies and product design - although his first choice of career involves two wheels.

"I'd love to be a professional TrialGP rider but I'm staying on at school so I've got something just in case it doesn't work out. It's important to have something to fall back on."

His school commitments have also had an effect on his winter training programme, forcing him to stay in England instead of heading south in search of better weather. Despite this he is getting to grips well with his new 250cc machine and is looking forward to taking the next step on the career ladder.

"I'm enjoying riding the 250. The main difference is, obviously, the extra power and this means I can practice harder and ride bigger stuff which is more fun."

With last year's Trial 125cc Cup sewn-up early, Jack moved up to the Trial2 class for the final two rounds where he recorded two top-15 finishes, but for 2017 he's set his sights much higher.

"I'd like to get in the top five this year, but I'll just have to see how it goes. With it being my first year it's difficult to say when there are so many good riders but that's where I'd like to be."

This year Jack will be competing against his older brother, Dan, who finished third in Trial2 last season, but any natural sibling rivalry doesn't get in the way of the strong family bond they feel.

"Last year Michael Brown helped me - he minded for me in Italy - but I also look up to Dan when we're practicing, he helps me a lot."