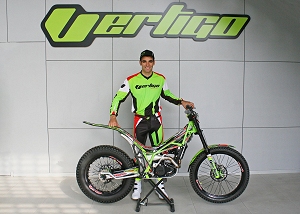 Vertigo Motors are delighted to announce that Jorge Casales will join thier factory team for the next two seasons with the Spaniard contesting both the TrialGP series and the Spanish Championship.
This agreement joins the two in a new and ambitious project that will continue through until the end of the 2019 season, once all Championships are completed. At the age of just 22 with a great future ahead of him, Casales reinforces Vertigo's line up for the next two seasons. Aboard the new Combat Vertical 2018 the team hope to allow him to maximise his talent and establish himself amongst the top riders in the TrialGP World Championship and also the Spanish Championship.

In Casales' record book there are already titles such as the European Youth Championship in 2010 and the World Junior Championship in 2013. In addition, he also holds 4 Spanish Championships secured in 2008 (Youth), 2009 (Cadet), 2010 (Junior) and 2011 (TR2).