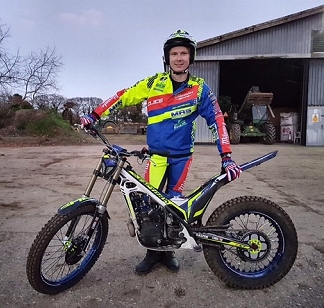 UK Importers, Malcolm Rathmell Sport, are delighted to announce the signing of the very talented rider Jack Sheppard to ride for Sherco in 2018. Jack will be contesting the British Championship, along with the Scottish Six Days Trial, the Scott, Lakes, Reeth and as many nationals as possible to help MRS promote the Sherco brand.
Speaking about this latest signing, UK Sherco importer, Malcolm Rathmell said "It is great to have Shep on board and brilliant for Sherco to have a front runner in the British Championship again. We have had a few years away from challenging for the championship but feel with Jack the time is right to return. He has good experience, a good temperament and I feel he is the right rider for our team. I am sure we will have many good years together.
Sherco and I have spoken long and hard about trials and we feel the time is now right to go back to basics, trials at grass roots. We want to concentrate on national championships, classic trials, nationals and centre/club events. We have already made great headway into this with James Fry winning the Expert Championship this year, taking the top three places in the S3 Championship with Luke Walker, Chris Pearson and James Fry and the B Class Championship with Dan Slack. Never forgetting, of course, our own superstar Emma Bristow who once again achieved both titles of World and British Ladies Championships as well as brilliant results in the SSDT and the Scott Trial.
Now we want to move forward again, concentrating on the British Championship and Sherco already have a few things almost ready for the future, the first of which is the electric start 4T 125, an economy bike as seen in Milan. Sherco have, of course, made massive inroads into the enduro market but the Sherco factory have trials as their roots and we are all looking forward to 2018.
On his jump from Beta, Jack was equally enthusiastic, saying "I would like to start by thanking John Lampkin and all at Beta UK who have supported me through the years – it's been a great time. Now I feel it is time for a change and I am really looking forward to the next year riding a Sherco. It's a new challenge and motivation and from my tests on the bike it feels a lovely bit of kit so I can't wait to get going. Thanks to Malcolm and Rhoda and all at MRS for their help so far and moving forward in to next year. Here's to a good year!"