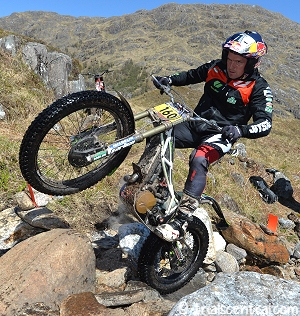 Dougie Lampkin will extend his relationship with Vertigo Motors for a further two years, with the Trial legend having recently signed a contract with the Spanish brand that will see the winning combination continue to work together to at least the end of 2019.

Having been an integral part of the Vertigo project since its initial inception, forty-one-year-old Lampkin has played an important role in terms of development and establishing the brand throughout the World over the last four years, with his own status and values not to mention his achievements creating the foundations for what has already been a highly successful start to the Vertigo story.

The former twelve times FIM Trial World Champion has continued to show his ability on the sporting stage in more recent years with a hat-trick of victories at the famous Scottish Six Days Trial (SSDT) aboard the now well proven Vertigo Combat model. Dougie gave the Combat a dream debut back in 2015 when he took his win for Vertigo on the then prototype machine before confirming both his and the bike's absolute pedigree and reliability with successive follow up victories in 2016 and then again earlier this year.

Using his many years of experience Dougie recorded an historic and memorable double during 2017 as he captured not only the SSDT for a third time in a row, his eleventh in total, but also won the famous Scott Time and Observation Trial in the same year - a feat that has only been achieved by an elite few over the hundred plus year history of both events.

Whilst this year may have been Dougie's most successful season in terms of competition since joining Vertigo, 2016 saw the longest serving Red Bull UK athlete complete one of the biggest achievements of his long and decorated career. When Lampkin became the first rider to successfully wheelie the entire thirty-seven miles of the iconic Isle of Man mountain TT course on board a heavily modified and adapted Vertigo Combat - this great feat being captured live on TV.

Over the next two years, as well as continuing his development work across the ever increasing Vertigo range, Dougie will also extend his role as brand ambassador, and attend World Championship events as Sport Team Manager in order to support the new line up of factory riders. Additionally, Lampkin will continue to compete in selected classic events including the SSDT and Scott whilst also taking care of his own Vertigo UK company.

Commenting on the new two-year agreement Dougie explained. "I think it goes without saying, that I am very happy to have signed for another two years with Vertigo. Over the last four years we have enjoyed a close and successful relationship in many different ways, including developing the bike, building the brand and winning the odd Trial too."

With a smile on his face Lampkin ended by saying. "I am very much looking forward to the next two years and beyond, when I am sure we will continue to work in the same way and achieve more success together, including a couple more Scottish wins hopefully."