Vertigo Motors have ended 2017 by reinforcing their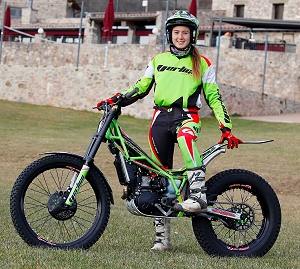 official line-up for next season. Following the bet on youth and talent, the green brand has signed one of the most promising riders of the TrialGP Women series. Berta Abellán, the reigning Spanish Champion and ranked 4th in the 2017 TrialGP Women's Championship has joined the Vertigo factory team alongside Jorge Casales and Arnau Farré.

Berta has experienced a meteoric progression since her runner-up finish in the Women's B class of the Spanish Championship back in 2012. Just five seasons later she is carrying 2 Spanish Championships in the premier class, two 4th places in the TrialGP Women's series and a prize as Rookie of the year in 2014. Just turned 18, Abellán also has laso taken part in the Trial des Nations with Team Spain, with who claimed the victory in the 2017 event.

In 2018 Berta will receive direct help from the factory, and will have at her disposal all the elements needed to fight for Top results in all the competitions. Her main goal will be podium places in the TrialGP Women's class, something she is no stranger to having achieved just that at this years USA event.

With the addition of Berta to the factory team, Vertigo affirms itself as a brand that is fully committed to giving opportunities to young riders, with the main idea to offer a quality structure in order to help them keep on learning and improving their results in the most demanding competitions of Trial.