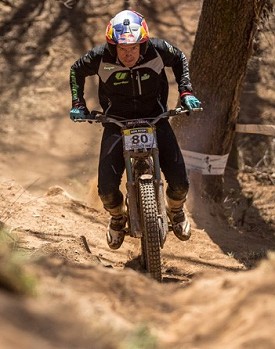 Image courtesy of JitsieDespite having recently celebrated his forty-second birthday, long standing Red Bull athlete Dougie Lampkin remains as hungry as ever for success. Confirming his continued appetite, the former twelve times FIM Trial World Champion is firmly focused on attempting to secure a record extending twelfth Scottish Six Days Trial (SSDT) win early next month.

Lampkin who now only competes in a limited number of events, alongside his many other commitments, used the recent Santigosa Three Day Trial in Spain as part of his final preparations for the forthcoming SSDT that will take place in the Scottish Highlands from 7th to 12th May. Making his debut on the newly launched Vertigo Combat Dougie Lampkin replica machine, the already eleven times SSDT winner confirmed himself as a strong contender amongst the two hundred and thirty riders of various nationalities who competed in the Easter weekend event.

Having already completed his own vigorous training regime in his native Yorkshire hills over recent months, Dougie was in great shape in Spain claiming second spot on day one in a field packed with current TrialGP riders. The second day of competition was to slightly spoil an otherwise almost perfect performance by Lampkin, with his early starting position forcing him to have to tackle the river-based sections in their most slippery state. A maximum score on the steep, smooth and extremely greasy waterfall hazard later in the day dropped Dougie to fifth overall going into the third and final day of competition.

Typically, Lampkin fought back and produced one of the best scores on day three to secure his second place overall and to take the win in the Veteran A category. This result puts Dougie in a great position as he now turns his attention to Fort William next month, where he will look to claim his seventh successive SSDT victory, fourth straight triumph for Vertigo and extend his tally to twelve wins in total. Putting that into context, no other rider has won the SSDT more than five times in its hundred plus year history.

Speaking about his result and looking ahead to the SSDT Lampkin said. "It was an important three days on the new bike, and it felt really good, I was hardly offline despite some of the sections being pretty tough. As in previous years, the Santigosa trial is a great shakedown prior to going to Scotland. I was really happy with my riding and the bike, and if I can repeat that kind of form at the SSDT I will certainly be in with a chance again."

Dougie ended by saying. "To win the SSDT twelve times to match my twelve FIM World titles would be amazing, but I know it is always a tough week at the Scottish and whilst you need to be riding well you also need to have a bit of luck on your side too. Like every year I will be giving it 110% to get my hands on that very special trophy come Saturday night."