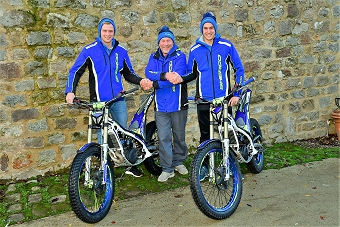 Image courtesy of Barry RobinsonSherco Importers, Malcolm Rathmell Sport, are absolutely delighted to be able to announce the signing of the very talented Yorkshire duo Jack and Dan Peace.
Dan Peace will move up next year to compete in the FIM Trial World Championship and Jack will again be contending in the Trial 2. Both riders are under a two year contract direct with the factory, which was signed off late Friday night.
In the UK Dan and Jack will be riding under the MRS banner and will be competing in the full British Championship, the SSDT, the Scott and as many other UK events as possible in between their practicing abroad. They have been offered the full facilities at both the Sherco Racing Factory in Spain and France but they will be under the guidance of Lluis Gallach, the Sherco Trials Competition Manager who is based at the Sherco factory near Barcelona in Spain.
As the fastest growing off road company in the world Sherco are continuing to follow their philosophy of signing young, talented riders in both of their disciplines of trials and enduro. With Dan being 20 and Jack a mere 18 they fit perfectly into this category. MRS are very excited to be able to help these two young Yorkshire lads and know that in the hands of Lluis they will be well looked after at the world rounds.
Jack and Dan Peace - "We would like to take this opportunity to thank Gas Gas, UK importer John Shirt and all the staff at Gas Gas UK for their support over the last five years.
We are really looking forward to riding Sherco in 2019 for Malcolm and Rhoda Rathmell at MRS and working with the Sherco factory team at the World Championship. We would also like to say a big thanks to Matt at Inch Perfect and Ian Brown for their support this year and for continuing to help us in 2019. Without people like this it would be impossible to be able to compete at world level."
Malcolm Rathmell – Sherco UK Team Manager - "After a few years in the wilderness it's brilliant to have MRS riders back in the world championship. It is with great pleasure we welcome the Peace brothers, Dan and Jack, to the Sherco family, two local young riders both rapidly climbing the British and World championship ladder.
After many long hours of discussion with Thomas Teissier and Lluis Gallach at the Sherco factory the decision was made that the brothers fitted exactly into what we were looking for, young, ugly and talented, perfect!!! Seriously we were looking for a long term relationship where we can grow together. They will be involved in a lot of testing and development as the vision of Sherco is to work and improve young riders. Our thoughts are that we couldn't have found better and we got two not one but certainly not at the price of one as they have just left here with half the warehouse and three pints of my blood!!
It's great to have the lads on board and we all look forward to a long and successful future. They have a lot to offer us and we have a lot to offer them and we can't wait to get started. Jack will be thrown in at the deep end with his first official outing being the Sheffield Indoor Arena in January. It will be his first time there but it is all a learning curve at this stage but we have total faith in both these lads for the future and we have the experience to know it takes time to achieve your ambitions but we will be there to guide them all the way."