James Dabill will lead the charge for the Italian marqueThe Beta Factory have announced the line-up of their Official Team in preparation for the 2019 Trial World Championship. The team will consist of two official riders and four who will participate in a project aimed at training future talents. This decision comes from the Tuscan company's commitment to boost the trial sector and specifically that of sports competitions.
James Dabill will continue to be the star of the team, competing in the Trial GP class with the task of taking the Evo Factory ever higher.
The official team will be completed with Toby Martin joining the team. The youth British rider, who has already raced for Beta in the youth categories, was a major protagonist in the Trial2 Championship in 2018 and has stated that he will be aiming for the title this upcoming season.
In 2019, however, Beta will take action also in the young rider market, focusing on a number of them in order to train and providing them with technical and sporting support so that they can achieve great goals, with Luca Petrella and Sergio Piardi who are both called upon to fight for the top positions in Trial 2. In 2018, Sergio Piardi triumphed in the European Championship Junior class and won the Trial 2 Italian Vice-Champion title, whereas Luca Petrella ranked third in the Italian Championship TR1. In Trial 125, Beta will have some very young riders in its team with Carlo Alberto Rabino and Nick Ball.
The Women's Trial is also of great importance to Beta: Women's Trial2 World Champion Alex Brancati will make the big leap into the Women's TrialGP class, once again racing for the Top Trial Team.
With riders of this calibre, Beta will be competing with a young and winning team. It also wishes its riders all the best for the upcoming season, hoping that it will bring many victories and experiences that will help them grow to the fullest of their potential.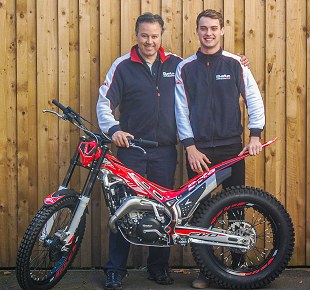 On the signing of Toby Martyn, John Lampkin, Beta UK Importer said "It will be great to have Toby back on a Beta next year. He is one of the top young riders in the world and we are looking forward to working with him. He is a very talented young rider and works incredibly hard at his riding both on and off the bike. Beta are focussed on working with young riders and Toby will be a big part of our future plans."
Martyn, equally excited about the future, said "I am very happy to be riding for the factory Beta team for the following two years. It is going to be a pleasure to be part of such a professional team which will help me try to make my World Championship dream come true. Thank you to everybody who has supported me this year. I am now excited to work towards the 2019 season."