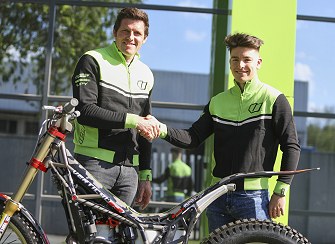 Vertigo Motors are delighted to announce the signing of Jaime Busto, currently one of the greatest trial stars worldwide to contest the TrialGP World Championship and the remaining rounds of the Spanish Championship.
Despite only being 21 years old, the rider from Górliz (Vizcaya) in Spain has proven over the last few seasons that he is in good shape to fight for victories and podium finishes in the TrialGP and X-Trial series with many successful results and a meteoric progression which Vertigo are expecting to give a new drive starting this week when Busto makes his debut aboard the Vertical R in Italy for the TrialGP 2019 season opener.
Busto leads a new generation of riders that are going to play an important role in the coming years which is why Vertigo didn't hesitate when the opportunity of signing him came up. The team consider his youth, ambition, talent and motivation gives him what it takes to fight absolutely for everything. From the first engagement, Busto's affection towards the proposal put forward by Vertigo was very positive, specially after a test run aboard the Vertical R.
With Busto joining the Factory Team, Vertigo reinforces its bet on talented young prospects, securing a line-up of world-class riders with a great potential to develop in the coming years. Jorge Casales, Berta Abellán, Lorenzo Gandola, Pau Martínez and Busto himself make up a factory squad that under the watchful eye of 12 Times World Champion Dougie Lampkin, is set to fight for the top sports in the TrialGP World Championship.