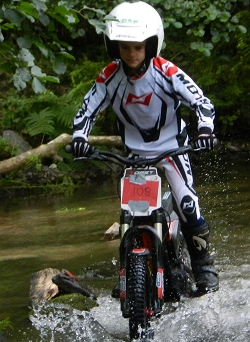 The Ceriog Walley hosted the third round of the youth and conducted LL&DMC club championship. Hafod y garreg farm saw 29 riders aged between 4 and 12, tackle various types of terrain in three different categories. The conducted class enjoyed their own flowing sections once again with technical twists and turns encouraging a feet up style. The top 3 couldn't have been closer 1 dab separately all 3 and most cleans to get a winner.
First was Will Hughes, Second Dylan Hughes and Third Steffan Jones. For the intermediate group saw the toughest yellow section this year with streams, woodland and bankings, First was Jenson Jones, Second Tom Hollingsworth and Third Alfie Harrison. For the D and C class on the hard route, many adult riders stopped on passing to see the young skilful stars of the future. C Class winner was Dan Jones, very closely followed by Ben Rimmer and third was Sam Widdowson Taking the win on the D class red route was Lewis Hurdsman who also rode hard for the overall win, followed by red route newcomer Charlie Crossland. Rider of the day was awarded to the ever improving Jenson Jones.
With our biggest youth trial to date everything ran smoothly. Thanks to all that helped and observed to make this a round to remember.