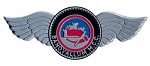 A sterling ride from the ever improving Mike Evans clinches the main award at the Banovallum mcc trial at Withcall. A special mention to Rob McElnea who's result does not reflect the effort put in!!
The middle route saw Tim Hawcock take his 2nd win of the year, leaving him a strong favourite for next years over 40 campaign!
On the white route, Scunthorpe's Kev Witting piloted his Yam to a most cleans win from Andrew Frith.