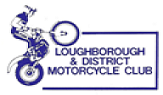 A hardy entry of over 50 riders signed on for the Loughborough Club Trial at Riley's Railway on Sunday and as the frost subsided and the sun came out it turned out to be a pleasant day for everyone. The section plotters had read the weather perfectly with results in the perfect range from close to single figures for the best and around a 100 for the less skilful at the other end of the sheet you could not ask for better. The club got a strong turn out of hard route riders for a change and Luke Walker and Sam Gent matched each other throughout with Luke taking a 5 on the last section and handing the victory to Sam. A brilliant third place was had by Matt Dixon, not long out of the youths and riding the wheels off his Beta to better experts like Steve Bird and Billy Craig. It was good to see former Trials champion turned Road Racer Dave Manley back on a bike even though he seemed to spend more of his day helping new Clubman Lewis Mason than thinking about his own ride.
John Holland took the 50/50 from a couple of youth riders and Martin Riley who's family this great venue is named after.
As always with Loughborough the biggest slice of the entry was on the middle and white routes with Olly Wareing again leading the way on his Fantic T/S with just 5 marks. Now the championship is won hopefully Olly will take a crack at the 50/50 in 2015 so someone else can take a victory! well done on your clean sweep Olly. Kevin Stannard in second and Andy Butt in third kept Olly honest at the top while Stuart Hallam on his Bultaco was next of the T/S riders just behind top youth Tom Bishop. On the white route pre 65 BSA mounted Mick Thurman took victory from Michael Smalley with Barry Craig in third. Youth rider Alfie Alderman again showed great determination and massive improvement to be top youth on this route.
Special mention must go to Tony Jones and Jamie Howe who turned out with an Air Cooled Mono Yamaha sidecar and made the most of the sections they could tackle on a course not designed with sidecars in mind. They still managed 8 of the 10 and had plenty to smile about at the end.
The club was not sure about running at Christmas, especially with the next trial just two weeks away at the Scalford Two venue but the great support and words of encouragement made it all worth while. The small group of people involved in Loughborough Trials Club would like to thank and wish a Happy New Year to all riders, observers and helpers involved with the club in 2014 and we look forward to catching u with you in 2015. Don't forget to find and like us on Facebook.