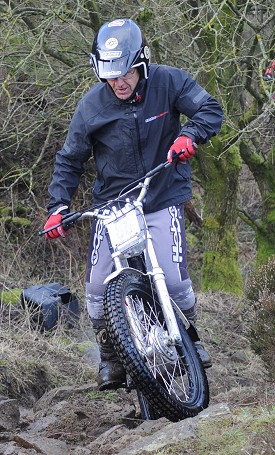 Former World Champion Yrjo Vesterinen showed all of his skill to win Sunday's Red Rose Classic trial at Warmden Quarry, Accrington and the Rossendale-based businessman did it in style cleaning every section over four laps at the popular venue on his Triumph Tiger Cub. However Vesterinen didn't have it all his own way, as Ben Butterworth and his immaculate Ariel was right on his tail, dropping just one mark when the scores were totalled up.

Clerks of the course Carl Winstanley and Tony Dillon plotted a course that was demanding, yet enjoyable, for all classes of riders, with the Easy competitors tackling five laps of eight. And with blue sky bathing Warmden in warm sunshine all day, Red Rose were rewarded with an entry of almost 80 riders, including Vesty and his daughter Hanna and Eric Boocock. Even Rob Shepherd got in on the act, observing on section seven!

With Vesty cleaning up class C, Pete Clibburn (Cub) took the runners-up place on four marks, with Dave Ingram(BSA) in third.

Ben Butterworth's one mark was enough to take Class A from Jack Butterworth (Triumph) ahead of John McCanna (BSA).

Hanna Vesterinen missed out on emulating Dad by only three marks in Class Te on her Comerfords Bultaco, two short of winner Paul Whittaker (Fantic).

In other classes there were wins for John Hird (Yamaha), Eric Atkinson (Ambassador), John Wilson (BSA) and Mick Dickinson in class Ce where no less four riders all cleaned, and could only be separated by the Oldest Rider rule.

Red Rose would like to thank the clerks of the course, observers and the landowner for all contributing to a great day's classic trialling. Their next event is on Sunday March 8 at Pendlebury (TEG) Bait, near Todmorden, which is a change of date from the one previously advertised.Nearest postcode is OL14 7AF.
Class winners

A: Ben Butterworth (Ariel) 1, Jack Butterworth (Triumph) 7, John McCanna (BSA) 30.
Ae: John Wilson (BSA), Mick Culf (BSA) 17.
C: Yrjo Vesterinen (Cub) 0, Pete Clibburn (Cub) 4, Dave Ingram (BSA) 8.
Ce: Mick Dickinson (Bantam) 0, Bob Baker (Cub) 0, Eric Boocock (Cub) 0.
D: Eric Atkinson (Ambassador) 1, Paul Harrison (James) 29.
T: John Hird (Yamaha) 5, Graham Fallows (Fantic) 6, Mick Clarke (Bultaco) 7.
Te: Paul Whittaker (Fantic) 1, Hanna Vesterinen (Bultaco) 3, Frank McMullen (Bultaco) 5.