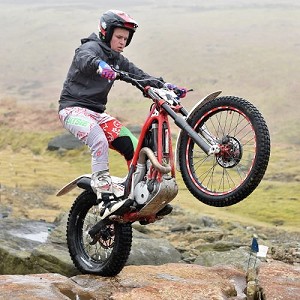 It was the start of the S3 Parts ACU British Clubmens Trials Championship at the weekend and finally the North Berks Club ran their popular Wallace Cup Trial after two years of it being cancelled due to bad weather.
The 'ever keen' club decided to introduce an 'elite' route to try and get the countries best riders to compete which worked well. Although the Championship is for Clubmen riders it's good to see the top lads there so they need a challenge. A handful of sections were changed solely for the 'elite' riders and speaking to Alexz Wigg and Sam Haslam, it worked well. The scores in all the classes looked about right so well done to Stu Robinson and his helpers.
Richard Timperley was the highest place JST GGUK rider in the S3 Class finishing 7th place after riding very well for the majority of the day but fell to pieces towards the end having three '5s' towards the end of the event. Richard was gutted because he was riding well early on.
In the 'elite' class JST GGUK Team riders Sam Haslam and Alexz Wigg had steady days finishing 3rd and 5th respectively. The results were fairly close with Sam Connor winning. This ended Haslams winning streak because he has been onfire winning everything the end of last year.
JST rider Ben Morphett was 7th, still getting back to bike fit after his long time out of action with his back injury. Good to see him back!
There was also a Yorkshire Centre Trial organised by the Bradford Club which was won by Road and Trials GG rider Jack Price. Jack has recently been training in Spain and came back to the cold and to a welcome win on Sunday albeit close, winning the tiebreak with JSTGG rider Dan Thorpe, both finishing on two marks each.