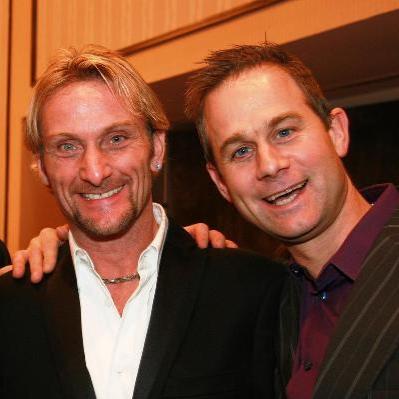 'I'm A Celebrity' winner, the 2014 King of the Jungle, Carl Fogarty has agreed to come and do a chat night with his best friend and Eurosport Commentator James Whitham on Thursday 14th May at The Engine Shed in Wetherby. Tickets are already selling well and they are to be pre bought only, there will be NO tickets available to buy on the door on the evening.
A Hog Roast has now been arranged for the evening, this will be £5 for a Hog sandwich, roast potatoes and salad.
Also an agreement has been made with the local Days Inn Hotel at Wetherby services and they have allocated 15 rooms for the 14th at a price of £49 which includes breakfast. To book you will need to call 01937 547557 and you need to quote 'Foggy @ the Engine Shed'. http://daysinnwetherby.co.uk/
15 rooms have also been allocated at Mercure Wetherby Hotel, the reference for this is 08448 159067 and quoting CARL140515 - the room rates will be £55 R/O, £65 single with breakfast and £75 double with breakfast. - http://www.mercurewetherby.co.uk/
These special rates will not exist after 15th April and the rooms will go back to the normal rate. All rooms booked must be booked over the phone on the numbers above with the relevant reference quote to get the discount.
Tickets for the Chat Night are £18 plus a booking fee and are pre-book only at this link:-
Foggy & Whit Chat Night 14th May
Or
http://www.skiddle.com/whats-on/Leeds/The-Engine-Shed/Foggy--Whit-Chat-Night/12355495/
There is one very special auction item on the evening; Yamaha Racing, Lin Jarvis and Andrew Smith from Yamaha Europe have kindly donated two passes for the Silverstone Moto GP in August. This will include Paddock Passes from Friday to Sunday. On Saturday they will become special guests of the Yamaha team which includes a garage tour, some goodies to take away and meeting Valentino Rossi and Jorge Lorenzo.
Carl Fogarty said "Cancer is sadly an illness I know too much about, I have lost, like many, good friends from this awful illness. Carly made contact with me about doing a chat night for Huck and I was more than happy to come and help out. I hope the night can raise some good money for Friends of Huck. It will be good to see familiar faces from the racing paddocks but also new fans from my jungle experience, I'm looking forward to it and hope to see you there."
James Whitham is also no stranger to the illness having battled Hodgkin's Lymphoma back in 1991 and successfully beating it. "When I was asked to do this I didn't give it a second thought as I love the world of motorsport and keen to also support cancer charities so the combination is perfect. Mark is only young and has a little boy who is only seven, if we are able to make some money to give him that extra time then it is more than worth it."