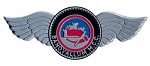 The George Frith trial was held at North Willingham today, a great turn out of 72 riders to take on some tricky, slippy sections set out by The Banovallum Club.
On the hard route it was a close fought contest with Tom Ablewhite taking the win over Philip Marris on having more cleans, they both ended up on 22.
On the middle route it was Andres Cook on 25 took the win over Simon Hurst on 26.
Martin Cox dropped 18 to take the win over Andrew Frith on 24 on the white route.
A big thanks go to the organisers and the ever present observers as without them the trials wouldn't run as smooth. Thanks also to the landowners for the excellent venue.
Our next trial is at Withcall on Saturday 13th and Sunday 14th June for the 2 day trial !!! Camping will be available on the Saturday night.