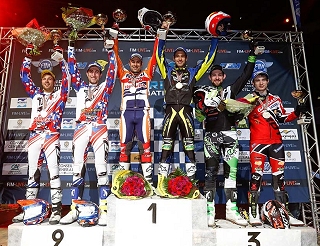 Gas Gas UK rider Michael Brown made it onto the podium with British team-mate James Dabill at FIM X-Trial des NationsThe Easter weekend started off on Friday with No.1 JST GGUK rider Michael Brown teaming up with his pal James Dabill at the X-Trial Trial Des Nations in Nice in the South of Fance, Spain unsuprisingly won with France second and the UK third. Congrats to Michael and James.
Then the S3 Championship continued on Easter Sunday in Wales at the Powys Trophy Trial organised by the Mid Wales Centre.
JST GGUK rider Richard Timperley grabbed 3rd in the S3 Class and multi National winner and JSTGGUK rider Dan Thorpe grabbed 3rd in the 'Elite' Class.
The S3 Championship then moved into North Wales on Monday for the infamous Lomax Cup Trial organised by the Llangollen and District MCC.
Man on form JSTGGUK rider Sam Haslam won the Expert Class for the 4th time! Sam always enjoys the Lomax and has now had 4 wins on the trott so a big well done to Sam.
JSTGGUK rider Dan Thorpe was 5th in the Experts and JSTGGUK Team mate Richard Timperley was 4th in the S3 Class.