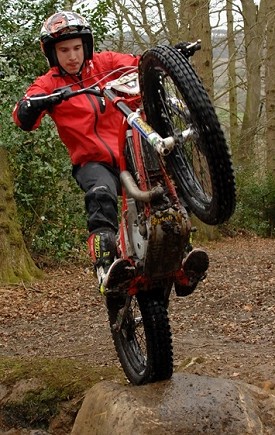 Michael Brown in action at Chris Carter Trial. Image: Ray CrinsonA busy weekend for the JSTGGUK Team at the weekend which started with Round1 of the 2015 European Trials Championship in Italy. The Peace Bros were both riding here and did not disappoint, Jack Peace was in the Youth Class on Saturday and got his 125 Gasser on the podium in 3rd and his older brother Dan was 9th in the main adult Class on the Sunday, only 6 marks off 4th, so it was pretty close.
Scottish Champ Gary McDonald was at Round 1 of the Scottish Championship and got the win ahead of Billy Bolt.
JST GGUK No1 rider Michael Brown was a popular winner at the Chris Carter S3 National Trial organised by the Yeadon and Guiseley Club. A good hard event (not too hard!) sorted the men from the boys and Michael was riding extremely well losing only one mark to take an easy win. Michael was mad at himself when he had his only mark on the penultimate section number 39.
Dan Thorpe JSTGGUK was third Expert Class and 6th overall.
Richard Timperley JSTGGUK was 8th in the S3 Class and 11th overall.
JSTGGUK riders Ben Morphett retired pulling his dodgy back and JSTGG girl Katy Sunter retired spraining her knee which i hope will be OK for the SSDT in a few weeks time...
Thanks to Ray Crinson for the pic of Michael