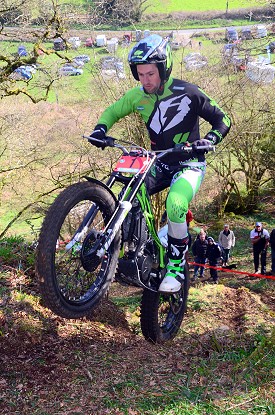 It is certainly a busy time for the riders in the RT Keedwell sponsored British Championships. Just a week after coming back from the Scottish Six Days Trial at Fort William it is now time for round 5 of the Brits in South Wales.
The event is the St David's held as usual at Llety Rafel Farm, Aberdulais just of the Neath Road. Postcode SA10 8HR. The venue is popular with the riders as it combines different types of hazards which can be unusual these days. It can be a fair walk around the farm but there are also some tricky hazards to be found within easy walking of the car park area. Start time will be 9.30 as usual when the Expert class gets underway. All riders will have a six hour time limit overall.
In the Championship class James Dabill is currently leading with a five point advantage over Michael Brown with Jorge Casales third. The unfortunate news however is that neither Michael or Jorge will be able to ride both having suffered injuries in the Japanese World round. There is never a good time to get injured and we hope to see both of them back later in the season.
This however means that we will see some new faces fighting for the podium positions. Sam Haslam had a superb Scottish ride and will be full of confidence, Alexz Wigg will be looking to re assert himself in the series as will Ross Danby. The young riders are currently led by Jack Price, Billy Bolt and Dan Peace. Price (Gas Gas) and Bolt (Ossa) both rode the SSDT on 125 cc machines but they will be back on their normal machinery this weekend.
The Expert Group is currently headed by Tom Hooper from the widely experienced Dan Thorpe with Jonny Starmer holding third place. Hooper has yet to win a round but he has been super consistent and the Sherco rider will be fresh and up for the challenge.
The youth A category has been a Toby Martyn benefit so far this year with four wins from four rides. To date only Jack Peace has been close to Martyn but he will need to beat Toby very soon if he is to mount a serious challenge in the series. George Marshman holds third place following a series of steady rides to date.
Although we are only in May the St David's is as mentioned the 5th in the 9 round series with the next event only another week away with the Scarborough Club doing the honours on May 24th.