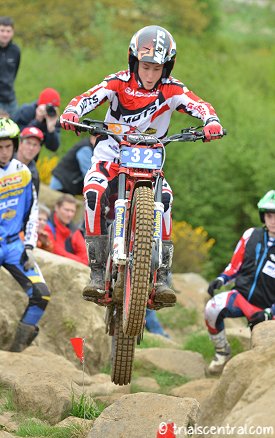 Jack Peace in action this weekend
(Image: Trials Central)Top JST GGUK youth rider Jack Peace wins again! This time he won in style winning the Youth Class and actually winning the Expert Class overall aswell. Yes the trial was in his 'backyard' but that can add to the pressure sometimes. Good to see his brother Dan walking round albeit limping with his injured kne. Dan hopes to ride this coming weekend at Czecho WTC.
JSTGGUK Team rider Dan Thorpe was on the podium in third and extended his BTC points lead to 5 points over his nearest rival Tom Hooper.
JST Kelcoat rider Sam Yeomans was 16th after his great 8th place last weekend in Wales.
In the main Championship Class we had no good news this weekend. JSTGGUK rider Alexz Wigg is struggling at the moment and again too many mistakes put Alexz in 6th, now 4th in the Championship.
Alexz' JST Team mate Sam Haslam who has been in great form this year simply had a bad day and maybe put too much pressure on himself. Sam finished a lowly 9th but is still 3rd in the Championship but can finish second for the year if he returns to form.
Road and Trials GG rider Jack Price had another another top 10 ride in 7th and now 9th in the Championship. His pal Billy Bolt had an awesome day finsihing on the podium so well done to Billy.
Congrats to James Dabill and Vertigo for the easy win without Michael and Jorge.
It was good to see Michael Brown there supporting his local event and had alot of well wishes from his fans. Obviously gutted not to be riding but his rehab has just begun so now the hard work back to form will begin. The Scott Trial is over 4 months away so thats the goal he has set himself.He wont be riding unless hes fit to win!
Well done to Jack and Thorpey.
Thanks to Factory Kev for fettling Jacks bike mid last week.