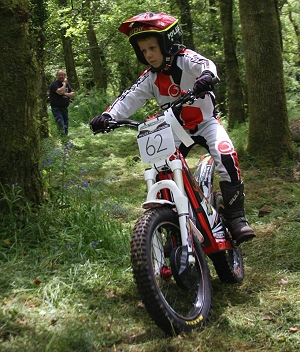 Myles Hutchinson
(Image: PJ Hutchinson)The ACU Youth National in Devon saw series sponsor OSET Bikes put through their paces and once again dominate the small wheel's podium, to take four of the top six places over the weekend.
Hosted by Moretonhampstead Trials club and West of England MDC, the two woodland venues provided a variety challenges that included, steep hill climbs over slippery, loose ground, tricky tree roots and some impressive rock steps that tested riders in every class.
OSET's prototype D-Class medium wheeled bike made its debut appearance at national level, ridden by Dominic Horne who delivered back-to-back podium finishes.
Ian Smith, CEO of OSET Bikes, said: "We're delighted the OSET 24 is as competitive as the OSET 20 and we're looking forward to further testing and development as the year progresses."
Day one at Bullaton Farm offered a magnificent vista over a lush green valley, before descending under a leafy canopy. Clerk of the course, Roger Barnes, managed a well-oiled event which saw competitors split into two groups, starting at different sections to limit queuing, to complete the figure of eight course.
The 80 plus riders dropped down to the bottom of the valley for a busy day on the bike on day two. A more compact and challenging course than in previous years was welcomed by everyone, all of whom were grateful the predicted deluge of rain kindly held off on both days. Ian Smith, founder of OSET Bikes was invited to present the awards.
Coming away as championship leader with two strong performances and the only small-wheels podium finisher on both days was welsh dynamo Lewis Hurdsman with a first and third. Myles Hutchinson and George Hemingway, both brought home impressive silverware, with George holding his nerve to post the only clean lap on day two.
Harry Turner, who missed out by one dab on being British Champion on his OSET 20 last year in the D-Class, has transitioned to C-Class medium wheels with ease – taking the win on both days – great job Harry T!
A special mention goes to Elliott Smith as the youngest rider on an OSET 16 - the smallest bike in the field, finishing both days with a huge smile – well done Elliot!