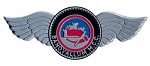 Banovallumm Mcc held their last trial of 2017 at North Ormsby near Louth on Sunday. On a lovely sunny morning 47 riders tackled some tricky sections set out in the rain on Saturday morning.
Luke Girdham had an excellent ride to win the Hard route only dropping 2 marks with Adam Frith in second on 22 and Ben Butler in third on 50.
Local man Paul Markham took the win on the Middle route just pipping Martin Cocks by having more cleans as they were both on 4 dabs and Neil Ballinger was in third dropping 11.
Stuart Wood was the winner on the 50/50 route losing 4 marks wit Robin Dalton in second on 22 and Andrew Frith in third on 28.
On the Easy route it was a dead heat between father and son Paul and Alex Woodhouse who both rode clean with Kim Waters in third on 1.
A big thanks to the Observers for there continued support throughout the year and also the course plotters and officials for there hard work behind the scenes.
Our next trial is on Sunday 28th January 2018 at South Thoresby Quarry near Alford LN13 0AR 10.30 start.
Look forward to seeing you all in the New Year.