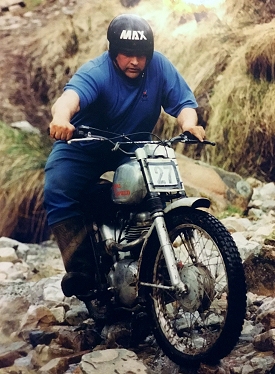 The SACU are sad to announce the death of Michael Anderson, a Damellington club member for many many years, who lost his year long battle with cancer on Monday evening.
A jovial, larger than life character, Michael was well known among the trials family around Scotland and the wider UK community. Michael grew up in Bishop Auckland in County Durham but had lived in the Sanquhar area for over 30 years. He has been ever present at Dalmellington and Stevenson trials for that time and was a regular competitor around Scotland.
A good friend to many, it was impossible not to like him and whether you'd only met him once or had known him for years, he was always happy to see you. Michael was also a great family man and wife Heather, daughter Coral and son Michael are all heavily involved in the Scottish trials scene. Michael's death leaves a huge hole in Scotland's trials family and he will be sorely missed.
His funeral will be on Tuesday 16th January at 1230 in St Brides Church, Sanquhar, DG4 6BY, Michael's family extend an open welcome to all friends and family to celebrate his life.