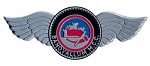 Banovallum Mcc held their last trial of 2018 at North Ormsby on Sunday. On a gorgeous Autumnal day it was Tom Ablewhite who had a clean ride on the Expert route with Phil Marris in 2nd on 3 and Mike Evans in 3rd on 6.
On the Middle route Mark Awcock lost 7 marks, Chris Traves in 2nd on 8 and Pete Ablewhite in 3rd on 13.
Gavin Sanderson took the win on the 50/50 route losing 40, Stu Kayley in 2nd on 42 and John Fox in 3rd on 43.
Mike Sanderson rode clean on the easy route with Roger Sanderson in 2nd with 1 dab and Kim waters on 2.
A big thanks goes to the Observers for their continued help at all our trials this year and also a big thanks to the course plotters and officials for putting on the events.
Our next trial will be in the new year on Sunday 27th January at South Thoresby near Alford LN13 0AR.