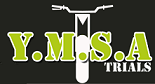 Happy new year from all at the YMSA and heres to a great 2019 season.
The 2019 dates are as follows:
HEBO winter trial - 27th January at Dudwood Farm
National Championships
Round 1 Talon Trophy Trial - 17th February at Burycliff Quarry
Round 2 Beta Trophy Trial - 17th March at Dudwood Farm
Round 3 Gas Gas Trophy Trial - 7th April at Foxholes
Round 4 Kia Trophy Trial - 15th September at Carsington
Round 5 SXS Trophy Trial - 13th October at Burycliff
Round 6 Sherco Trophy Trial - 3rd November at Dudwood
11.00am start apart from the last round, which will start at 9.30am followed by the presentation.
Hope to see you all there.