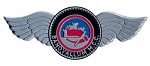 Banovallum Mcc held a trial at South Thoresby quarry near Alford on Sunday. 48 riders attended the event.
Dan Tuley (7) was the overall winner beating Tom Ablewhite (10) into 2nd spot and Mike Evans(10) in 3rd by one less clean.
Jamie Britcliffe (5) took the middle route win with Thomas Collett (10) in 2nd and Dave Hunt (13) in 3rd place.
On the 50/50 route Stephen Dent(55) was champion with Mick Kirk (62) in 2nd and Pete Clifton (90) in 3rd.
John Hamblin (3) won the White route with Andrew Frith (7) in 2nd and Jim Woods (13) in 3rd.
A big thanks goes to the observers for there time and also to the course plotters and officials for putting on the event.
Also thanks to the land owners for the use of the quarry.
Our next event is The Withcall 2day trial at Withcall near Louth on 15/16th June. Look out for more details nearer the time.